How to Make Yummy Buttermilk Biscuits With Chorizo Cream Gravy
Buttermilk Biscuits With Chorizo Cream Gravy.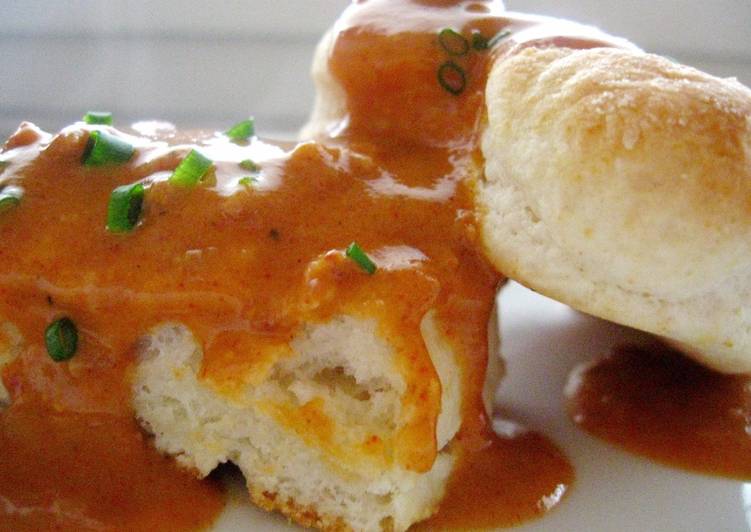 You can have Buttermilk Biscuits With Chorizo Cream Gravy using 9 ingredients and 7 steps. Here is how you cook that.
Ingredients of Buttermilk Biscuits With Chorizo Cream Gravy
Prepare of Buttermilk Biscuits (see recipe description).
It's 6 ounces of Mexican chorizo (about half a typical tube).
Prepare 1.5 Tablespoons of butter.
You need 2.5 Tablespoons of flour.
It's 1.5 cups of unsalted chicken stock.
Prepare 1/2 cup of half & half (but you could use whole milk or heavy cream).
It's 1/4 teaspoon of onion powder.
It's 1/8 teaspoon of (or a few turns of fresh cracked) black pepper.
It's of finely chopped parsley, chives or green onion for garnish.
Buttermilk Biscuits With Chorizo Cream Gravy step by step
Cook your chorizo over slighly higher than medium heat until the fat melts away from the meat, and without draining fat, add butter..
When the butter is just melted, stir in the flour with a whisk, making sure to break up any clumps, and let the flour cook, stirring occasionally, for 2 to 3 minutes..
Pour in the chicken stock while whisking, continuing to disintegrate the chorizo roux, until all the flour has blended in with the stock. Continue gently whisking as the gravy thickens..
When the gravy has thickened and begun bubbling for about 10 seconds, pour in the half and half and continue whisking to incorporate the half and half with the gravy and let simmer for about 30 seconds..
Add the onion powder and black pepper, whisk again to incorporate, let simmer for another 10 seconds or so, and take gravy off the heat so it won't continue to thicken..
Serve over warm biscuits with some chopped chives and/or parsley..
Enjoy! :).